Welcome to Bike Talk, a forum for all bikers and motorcycle enthusiasts. If you are new to Bike Talk, be sure to register for free and join the conversation.

There's always someone around willing to help out with questions or give a friendly wave back. All Harley and metric riders are welcome.

Bike Talk motorcycle forum
Don't laugh but I don't have the biggest of hands.

Went riding today and for some reason when shifting into 2nd gear (only 2nd)I must have partially lost grip on the the clutch lever and it released way too quickly after I selected 2nd and then obviously the bike really jerked forward (when it feels like your hands are ripped of the grips). No grinding or bad noises, it was in gear.

Anyway, not really an issue but I'm wondering if this causes wear or damage to the transmission, cogs, clutch etc?

And also what is actually happening when that happens? Is it the clutch grabbing or the cogs (not very mechanically minded)?

Sent from my iPad using Tapatalk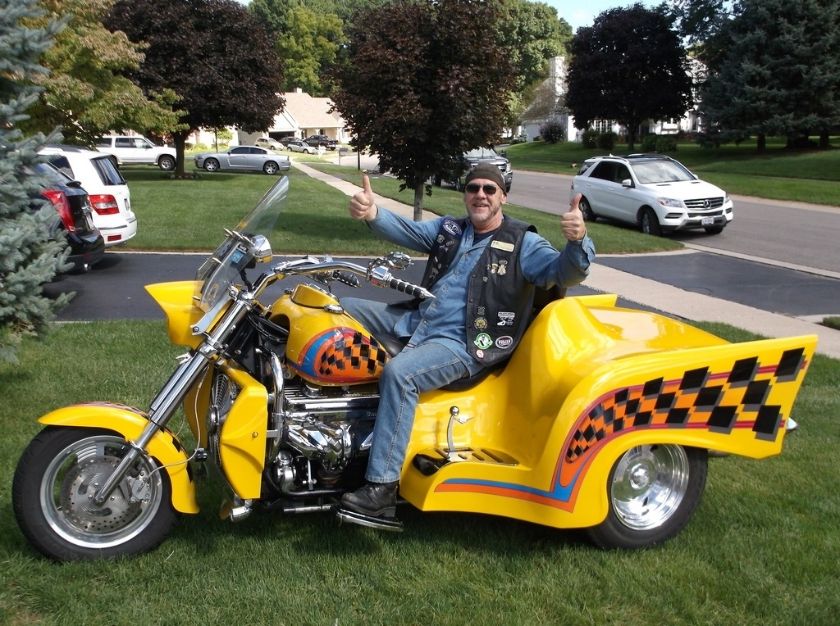 Saying hey to all on "bike talk' forum ! wow this riding season has really past all too quickly ! Got around 7000 miles in this year, farthest trip was 1759 mile week ride..touring the Mich. U.P. and northern WI......still have one more trip planned to the PA. Allegheny mountains for about a 1000 mile weekend....then just local riding till it's time to pull the bikes off the road when the city SALT starts getting put down on the roads !

Had a great group ride last weekend, started by going to pick up Rich, he has a liking for GM V8 powered bikes and trikes....... here is a look at some of his rides. I got to ride this "boss hoss" 57 chevy look trike .....a lot of power in these bad boys to say the least ! Sorry....Photo bucket if effin up again , I'll throw some pictures on here in a...
Here's a question that has a MAYBE answer that baffle me (no pun meant). A kid that works at the yard where I drive out of bought a used Kawa v-twin that has carbs.. The original owner pulled the mufflers off and tossed em. We don't know if the jets or needles were touched. The pipes are very very sooty. The bike backfires like nothing I've ever heard before. Whenever he lets up on the throttle the popping is crazy. All the time. I figure that the carbs were screwed with also. Sooty means rich. A kawa tech told him its all the pipes fault. Could that be??? I realize free flowing exhaust cause inversion that will cause popping but extreme soot??? My opinion is that the carbs have been played with in order to TRY to get them jetted for the open pipes. The popping is probably...
I have an '89 883 that I would like to get running. Would it be smart to replace the vac slide for age, just to ensure it works correctly? The bike has sat for +5 hrs. and As far as I know the slide is original.
Haven't been on the forum for a while. Just popping in to say hello. How has everyone been?

Sent from my XT1650 using Tapatalk